Jeans came a long way from working clothes to runway shows all over the world. James Dean made them popular among youth, and his appearance in movie "Rebel without a cause" will always be remembered as a breaking point in the history of fashion. In that time (around 1950) jeans became a symbol of the rebel among young people and it was banned in schools and public places such as restaurants. Later on, this fantastic fabric found its way to popular culture and became a symbol of youthful and casual style.
These days there is almost every color and shape of jeans, but the most popular are those ripped one's which is sometimes more expensive than those which are not made to look worn out.
Luckily you can find today well-made jeans, for a reasonable price and I will try to help you in your quest. Bear in mind that every model in this text is under 50 dollars.
Levi's Women's New Boyfriend Jean
View Product on Amazon.com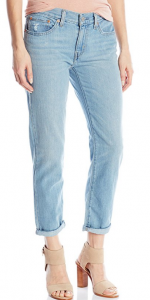 I decided to start this article with boyfriend jeans. Absolute must have this season is to look effortlessly chic. Like you have just woke up in the apartment of your boyfriend, and you have grabbed his favourite jeans and paired them up with nude sandals.
Wearing boyfriend jeans will not always flatter your figure, but it will scream: "I have read a Vogue or two".
So if you are one of those girls, like me, who live for fashion, chose the right shade of blue, and buy your boyfriend jeans from Levis. You will be able to wear this relaxed fit with snappy heels, sandals and sneakers. Bonus advice is to buy lighter shades of jeans because it is easier to combine with colorful blouses that we usually wear in spring and summer.
All in all, great price and very trendy jeans!

BLUE AGE Women's Butt-Lifting Skinny Jeans
View Product on Amazon.com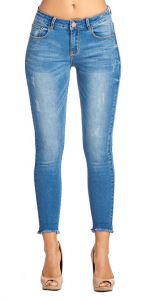 If you don't want to look like you don't give a damn about how hot you really are, then think about this model.
Not only it is skinny, it has a special effect – butt lifting! Since they are made of the combination of denim and stretch it makes them very comfortable and easy to wear.
There are few similar models from Blue Age, and in my honest opinion, this on the picture is the best. Because I bought a similar pair of jeans lately, and I adore high waist, and bottom hem wich looks unfinished. Don't worry it is not unfinished, it is the latest trend.
I combine mine jeans with high heels and blouses with floral print. I usually tuck my blouse into these high-waisted pants for achieving the retro look. You can also add round sunglasses this spring.

Levi's Women's Slimming Skinny Jean
View Product on Amazon.com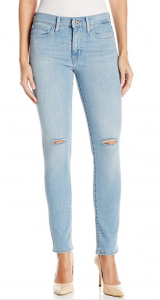 There are a lot of girls and women these days who are afraid to wear high waist jeans because they think it is something for older women. They say it is mum's jeans, but I would disagree. This high waisted model of jeans from Levis is figure flattering, it tucks in your belly, and the pockets on the back are giving you push up effect. As Levis claims, it is designed to smooth, shape and slim your legs.
Ripped parts on knees are still going strong among fashion bloggers, and maybe you should try a model with open knees. If you still don't want to buy things that are looking like they are used, don't worry there are regular jeans without holes for the same price and with same effects.
The thing I loved most about this pants is the chart with sizes which is made by Levis – it contains bits of advice what to wear with what model, so I won't bother you with my advice.

2LUV Women's Stretchy Five Pocket Skinny Denim Jeans
View Product on Amazon.com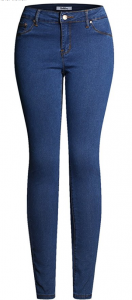 The most classical pair of jeans of them all here on the list. No matter that we are viewing all sorts of jeans these days on fashion websites and in magazines. Who is brave enough to wear those on daily basis?
I am sure I am not.
When my budget is lower than usual, I concentrate to classic models wich don't draw too much attention, and wich is easy to combine with everything. You can combine with those navy inspired t-shirts that are the huge hit this season, or with bold colours, wich designers are promoting on their collections.
This model is not only good looking but also has great reviews. Girls and women from all around the world love this pair of jeans because it fits like a glow, and it hugs legs like leggings do.
So when it comes to a combination of price and quality, this pair of jeans is one of the best choices.

Hybrid & Company Women's Super comfy stretch denim 5 Pocket Jean
View Product on Amazon.com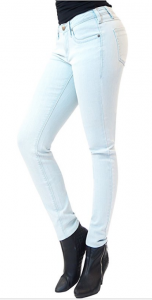 Light colour, light and soft!
This pants, just like the previous ones, will save your money and make you look skinnier and longer.
Five pockets on these jeans make it look so classical, and the light shade of blue will go fabulously with floral prints. It is not growndbreaking, but it always works.
You can pair them with a faux leather jacket, and stilettos for a punk glam look, or with sneakers and t-shirt for a casual look.
Oh, wait there is more to this pants! There are eleven different colours and one of them is with the pattern of an American flag and it looks very interesting. Maybe it will be a bit harder to combine, but my advice is to try to steal the look from Lana Del Rey.
You know how it goes: "Blue jeans, white shirt…"

This next one isn't always under $50, but it's still great:
Lucky Brand Women's Sienna Boyfriend Jean In Tomales Bay
View Product on Amazon.com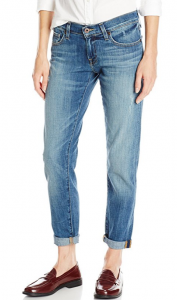 If you want to wear boyfriend jeans with a twist this model is for you. When I say twist I mean with a front fade, whiskering at the hips and few holes wich you may not see on this picture but they are certainly there.
These cool weekend jeans are just what you will need this spring. You will enjoy Sunday shopping in pants such as this.
The shade is a bit darker than the previous model, but it looks more trendy. With cute off shoulder top, you will look like street style blogger. Additional advice is to choose a top with stripes.
Stripes are huge these days.