When winter arrives, sometimes you have to choose warmth over the style, and that is just not fair, especially for college students that are going to be spending the next months and years with their fellow schoolmates. Luckily, there are jackets for winter that can satisfy all needs. We have made a list for both male and female students that are both stylish and warm.
Lets begin with the ladies (click here to skip down to the Men's section).
Tommy Hilfiger Womens Plus Size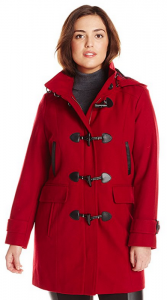 Just what many of us is looking for, when it comes to finding the right coat for freezing winter days. It is not too glamorous, and not too sporty, and that makes it perfect for your college style. It has zipped pockets on both sides, and it visually makes you look thinner. It comes in tree different colors, so you can choose the one that goes well with your boots, scarf or beanie.
This coat has a lined hood, made of the polyester and wool, which will prevent any disasters that rain and snow can cause to your hair. Entire coat is also made of polyester and wool, so it will keep you warm like a french kiss. When it gets a bit warmer, you can get rid of the hood and unzip the jacket to show of your sweater.
Multiple Colors

Minibee Women's Winter Outwear Hoodie Coat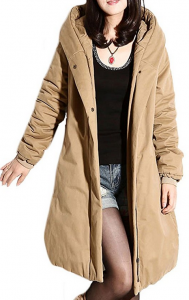 The trend is simple this season: the bigger, the better! Minibee women's winter hoodie coat is very stylish and it will keep you dry at any time. It is just perfect for moments when you can't hold the umbrella because it's is so windy.
This one has a snaps over the zipper, which is great because sometimes zippers can break if you are not very careful. Multiple colors available.
The army green version is the edgiest, but you will not miss if you pick any other color. So, If you are the person who likes to stand out of the crowd with their style even in the coldest weather, this one is for you.
Multiple Colors

Steve Madden Women's Single Breasted Wool Coat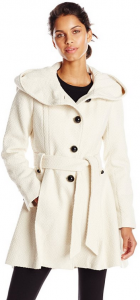 Would you like to get a lot of compliments about your figure during the winter time? Oh well, who wouldn't?!
But frankly, in this time of the year when we need the most confidence, we tend to get fat, and our clothes is not that flattering as it was in previous seasons.
That is why we all need a coat like this in our wardrobe. This coat emphasize the waist and it is a classic. It comes in 8 different colors, and it has a hoodie that is very practical.
If you want to feel like a lady, and embrace your beautiful curves, this one is for you.
Multiple Colors

Women's The North Face Arctic Parka Jacket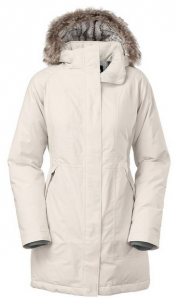 During those cold months we usually wear a lot of heavy clothes, and that can be really annoying, but this coat is much lighter than the others in its category and it just won't make you feel looking like a marshmallow.
It is great for outdoor activities because it has a good zipper, big fleece lined pockets to warm up your hands. The cuffs inside the sleeve keep your arms warm, and prevent cold air inside your coat.
It comes in various colors, and it has a cool, versatile hood with faux fur trim. Perfect jacket for those girls who enjoy outdoor activities and winter time, without catching a cold.
Multiple Colors Available

That's it for the Ladies, here's the mens selection:
Wantdo Men's Waterproof Mountain Jacket Fleece Windproof Ski Jacket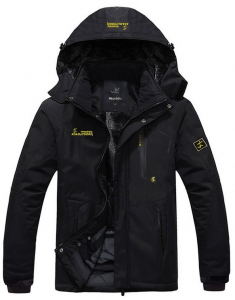 Wantdo waterproof mauntain jacket has an inner pocket for important documents, wallet or keys which makes it very practical. There is also an earphone line fastening and supporting fixture available inside the jacket.
Very cool, masculine and sporty jacket is the best solution for days without motivation. In this one, you will feel like you can climb the mont Everest. For college budget this one is perfect, because it is cheaper than those with known names, although the quality is the same.
You can also use this jacket for skiing during the holiday season.
Multiple Colors Available

Tommy Hilfiger Men's Ultra Loft Insulated Midlength Quilted Puffer Jacket with Fixed Hood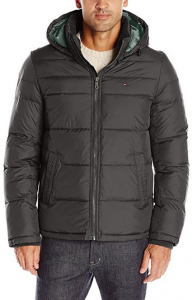 This wind-breaker is a bit more expensive than the previous one, but it has so many great rewires all over the internet, that it seems that is worth it.
Designers of this jacket were very smart, so they have made sleeves with elastic fabric around wrists for keeping you away from cold, but they also made it that it doesnt look like that, it looks like regular sleeve.
You can wash it washing machine, and maintain it for more than just one season without big dry cleaning expenses. Another good thing is that this one is very lightweight so you can pack it in your bag, when you travel.
Multiple Colors Available

Columbia Men's Blancher Mountain Omni-Tech Jacket

Many guys are not big fans of accessories such as scarfs, and hats. They need good spacious hood, and full zip closure with one button snap on top. The lining of this jacket is perfect for trapping body temperature as well as preventing any wind from penetrating.
Nice touch is removable hood, as this gives the wearer another option for reducing bulk when the weather is nicer. It also has a wather proof pocket in front, for your best friend-your phone.
This jacket is great choice for those who live in places with more extreme winter conditions, or for those who just dislike a lot of layers and sweater underneath the jacket.
Multiple Colors Available

Carhartt Men's Arctic Quilt Lined Yukon Active Jacket J133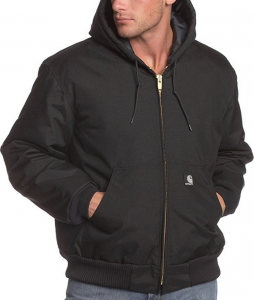 This water-repellent jacket is excelent for cold weather and some reviewers say it is so awesome and warm that it can be worn even in Alaska. It features two inside pockets, two hand-warmer pockets and rib-knit cuffs and waist.
A lot of reviewers have mentioned how stiff the jacket is when you originally receive it, but that is in the beginning, because after few days you stop noticing that stiffness. So, when you receive it, use that piled up exam-stress for a good cause and break this jackets stiffness.
This jacket is also known for its durability, so it may stay with you throughout your college years.